The residential and commercial building in the Stargarder Straße in Berlin-Prenzlauer Berg is a modern building that cites traditional, Japanese temple facilities and shrines. Dark wooden cladding and horizontal spokes underline these motifs.
Asymmetrical façade design
A special feature is the offset balconies and loggias that evoke a breaking of familiar lines of sight of symmetrically designed façades and allows an extremely lively manifestation to arise.
Unlike in classical residential and commercial buildings, three staircases that are hardly visible at first glance are found in the street, interwoven with the front view. Here too, the principle of asymmetry dominates: the staircases are arranged offset, which enables playful interaction with the right corner. The central staircase, which retreats from the central axis, also breaches conventional ways of seeing.
Light and air in the courtyard
The building was erected on a funnel-shaped ground plan and encloses an airy courtyard that is flooded with light. This is connected by bridges on each floor to a second courtyard located to the rear. Deliberate reference was also made to Asian temple facilities for this design element.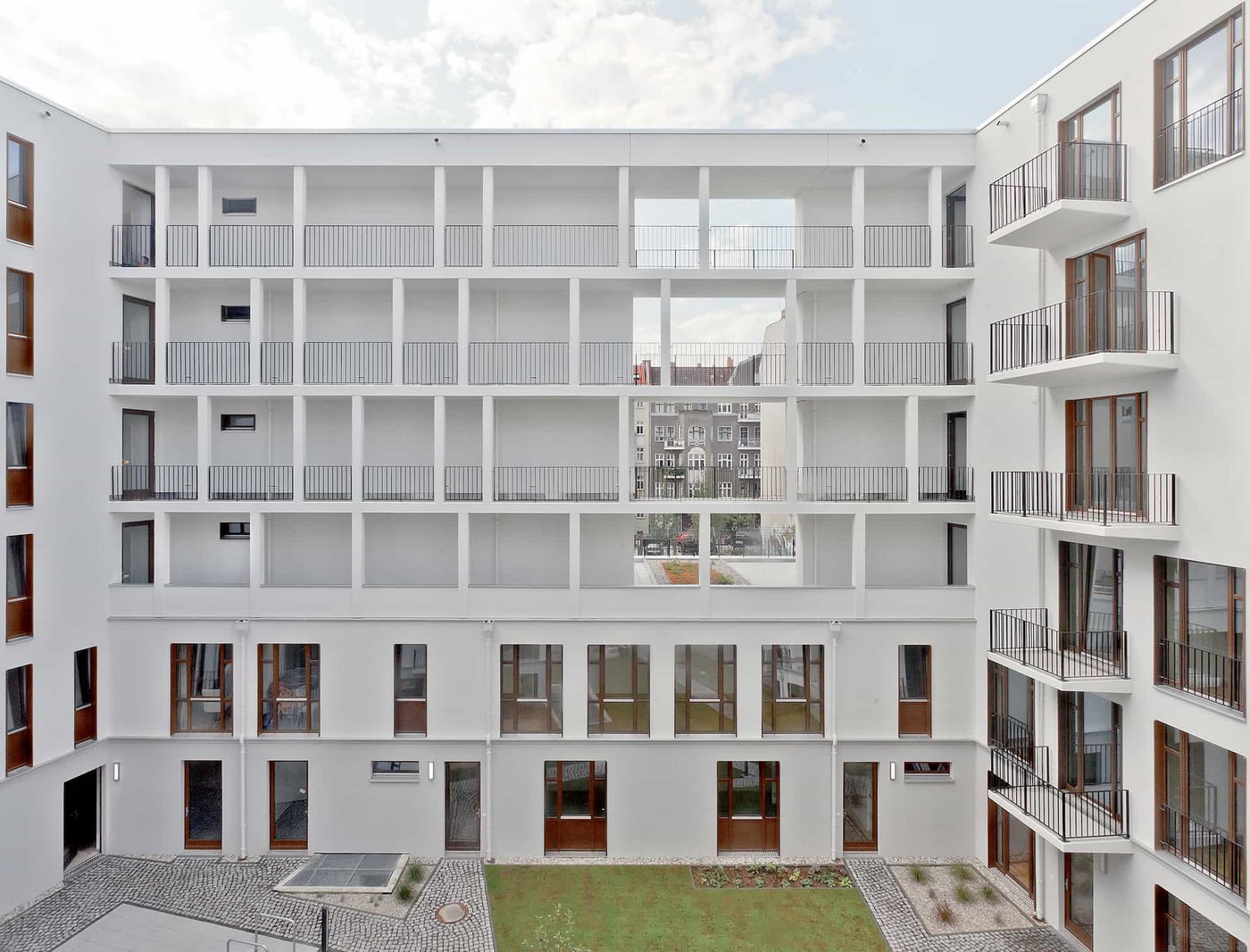 Classic rooms reinterpreted
Living room, dining room and kitchen, as well as a spacious loggia are united here. While traditional Berlin rooms usually suffer from a lack of light, large area glazing now allows for optimal light incidence. A classic wing with apartments with a walk-through room, reminiscent of the famous Berlin room, adjoin the front building.
Category
Residential and commercial building
Location
Stargarder Straße 35/36, Berlin, Prenzlauer Berg
Cooperation
B. Mosca, G. Pesenti and S. Stortone
Client
econcept Immobilien and Projekt­entwicklung KG (GmbH&Co)