The Bahnhofstrasse in Zurich is considered one of the most luxurious shopping miles worldwide and can compete with the most expensive streets in New York or Paris. Here, exclusive department stores, shops of famous fashion labels, jewellers and luxury hotels line up one after the other. The Bahnhofstrasse is also the seat of many banks and internationally active law offices.
The renowned boulevard originated in the second half of the 19th century. Once built as a residential area for the socially disadvantaged, the Bahnhofstrasse especially also served as an access road to the railway station. Today it is primarily a traffic-calmed strolling and shopping promenade. The character of the 19th century continues, even though a number of old buildings had to make way for new buildings from the 1960s to the 1990s. The historical road surface was also replaced by a uniform asphalt surface.
Monument and modernity
The commercial building at Bahnhofstrasse 84 is a heritage-protected building from the years 1891/92, which was built under the name "Zum Freieneck" by the architect Johann Josef Weidmann.
With the redevelopment and the renovation of the building, it was possible to combine aspects of monument protection and the highest demands on technology and comfort in contemporary building and to successfully realise the project. The existing wooden beam ceilings were thus refurbished through an extremely efficient and novel technology with regard to statics and fire prevention. The demanding specifications for noise protection and fitness for purpose were fully implemented. This applies especially to a significant reduction of the otherwise usual suspension of the wooden beam ceilings and the installation of cooling ceilings in all usable spaces.
The confluence of old building charm and new building comfort offers the user real added value when receiving customers in the rooms. The modernly designed and ground level open air entrance was newly clad with marble and stucco. An illuminated ceiling guides the visitor to the elegantly furnished staircase with the restructured elevator.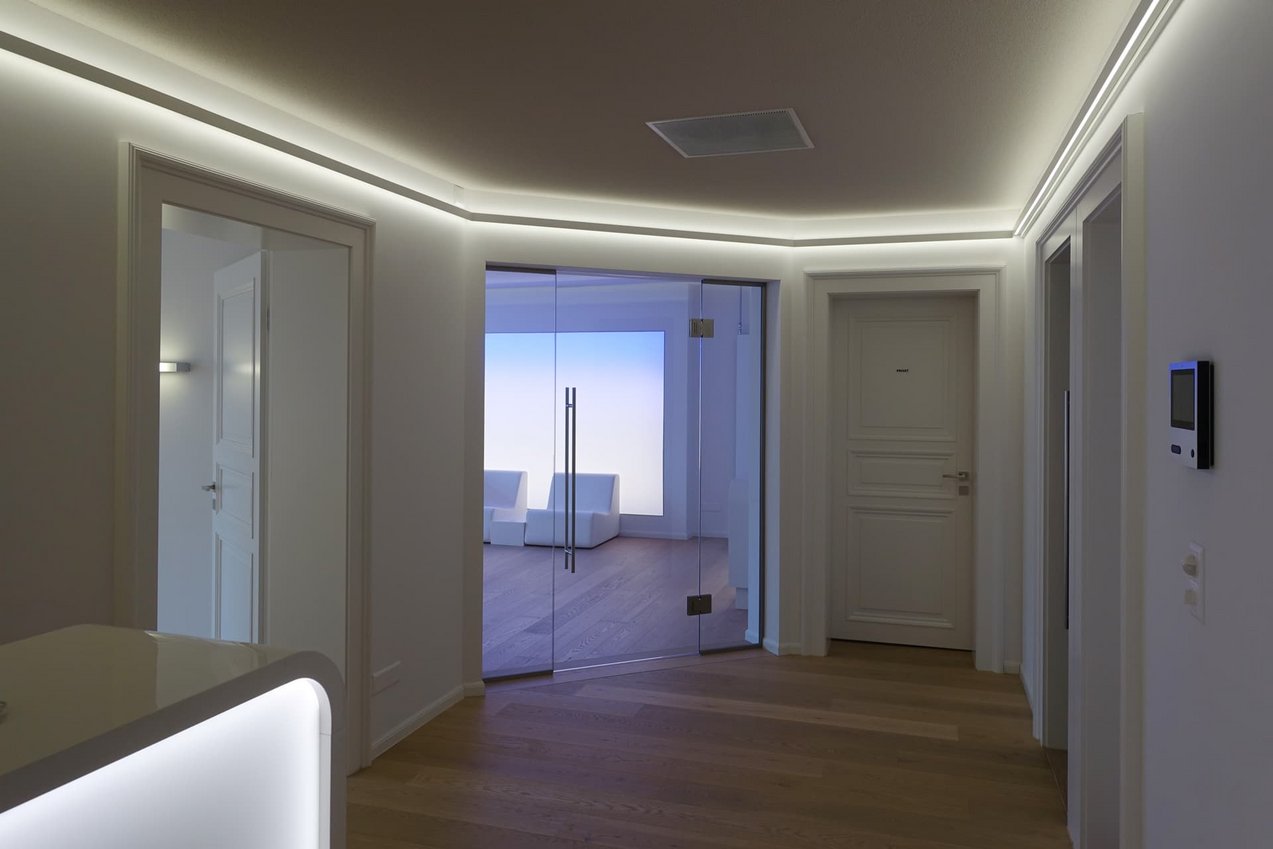 Category
Commercial building
Location
Bahnhofstrasse 84, 8001 Zürich
Partner office
Olah & Partner GmbH
Statistics
StaKo GmbH / Henauer Gugler AG
House technic
Bouygues E&S InTec Schweiz AG
Electric
Thomas Lüem Partner AG
Building physics
Braune Roth AG
Floors and wall cladding of the upper office floors were complemented with luxurious solid wood parquet. Attention was also paid to combining old with new doors built in the same way, or, when necessary for reasons of lighting technology, to replacing these with large-format glass doors. Due to a lack of natural light, high clearance spaces with glazing were conceived of on the topmost floor above the roof area. As a reminiscence of the past, historical advertising painting was refurbished and integrated into one of the office spaces. The highest standards for a modernly equipped business building were realised without negating the history of the building and the place.